Dylan Evoy, a veteran driver and former Sportsman Track champion at Brockville Ontario Speedway, has been pondering the move to the 358 division for several years and is finally at the point of his life where he can follow this dream.
Racing Influenced Evoy heavily as a boy as both his Father Ron and Uncle's Gil and Jeff raced or campaigned a car for several years.
After Ron stopped racing, Dylan began racing Karts at the Brockville Speedway in 2003. He would continue racing in the Kart ranks for several years.
Dylan, the young prodigy, quickly picked up the art of racing and by late in the 2007 racing season was testing his talent out behind the wheel of a Sportsman Modified.
In 2008, Dylan was racing full time in the Sportsman division at Brockville Speedway coming home in fourth in the championship standings.
By 2010, Dylan had begun to be a dominant force at his home track of Brockville Speedway, taking home the championship that season.
In 2011, Dylan walked home with the track championship at Mohawk International Raceway and coming in second place at Brockville.
By far the best season for the now Sportsman Modified veteran was in 2012. Dylan came home with a second track championship at Mohawk, with another second place at Brockville. That season, Dylan captured 17 wins along with the MR. DIRTcar title. It was one of those dream seasons for the young racer as Dylan explains: "We had some momentum from 2011 and we built off that. The car was where it needed to be and things just fell in place. It was one of those seasons you will never forget."
The 2013 season was a bit off-season for the 83 Team but it still managed to come home second in the standing at Mohawk and Brockville. The following year, he was back in true form, picking up 11 feature wins along with the MR. DIRTcar title once again. He also came home second in points at both Mohawk and Brockville.
For the next three years, the 83 Team concentrated on just racing Brockville Speedway as school and work took precedence over racing. However, this did not deter the hard-charging Dylan as he racked up two more championships in 2015 and 2017, plus a second-place finish in 2016.
Dylan decided to put his helmet away and put all his efforts into work and his new life as a homeowner at the end of the 2017 season.
Many drivers, including Dylan, considered that racing might be over. At the time, Dylan said, "it was a good run and the team as a whole achieved a lot over the last 10 years, with 76 feature wins, along with 5 track championships and 2 MR. DIRTcar titles."
For the next few years, Dylan was heavily working and fixing his home. Several months ago, everything fell in place for Dylan to get back into racing and move up into the 358 division , something that he has wanted to do for some time now.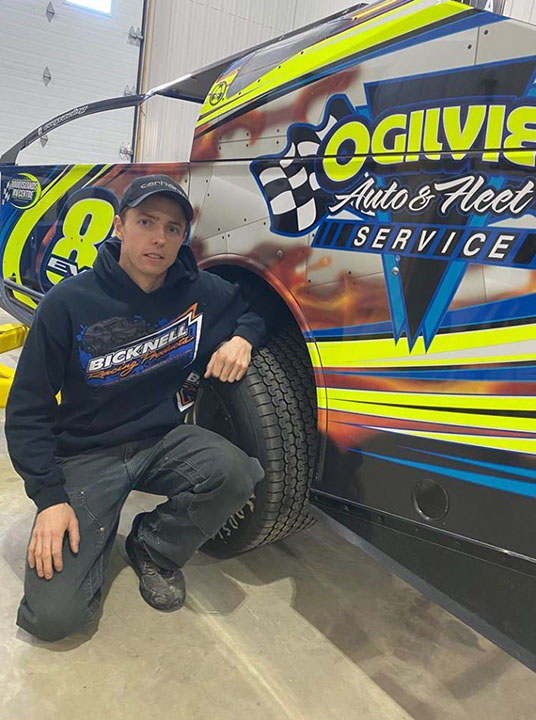 As Dylan explains: "It was a big decision to get back into racing and moving up to the 358 is definitely a big move for us. "But it was now or never as racing is getting to be so expensive. For us, everything had just fallen into place over the last several months. Yes, the 358 division is very competitive, but we have a great group of people behind us and I am looking forward to the new challenge. Being away from the track for two years, there has been a lot of changes to the cars in that time, but I am hoping we can get back in the groove fairly quickly and some strong runs throughout the season."
It has been some time since Evoy has competed on weekly basis but with the group surrounding Dylan and the 83 team along with some great sponsors backing them like Ogilvie's Auto and fleet service, Evoy Automotive, AC Towing, Plooy's plumbing, and heating, 1000 Islands Rv Centre, MIE Autobody, MyFM, the team has a great starting point for the 2020 season. The team is always open for more partners and you can follow the team on their Facebook page at "Evoy Racing". As for the rest, this will be up to Dylan who has proven in the past that he is always up for a good challenge.