The year was 2012. Thomas Cook decided it was time to go racing. He has never questioned this move.
Thomas, the grandson of the legendary driver Billy Cook, is going into his ninth season of racing in the Sportsman Modified division. He is determined to take his racing program up a notch in 2021 and challenge for the track championship at Cornwall Motor Speedway.
For Cook, this journey to the race track started as a young boy. He would help his grandfather, Billy, prepare his race car weekly at the shop. By the age of 9, Thomas would start to accompany his grandfather to the track on race night, helping with a race car as the night unfolded.
As time went on, Billy realized that Thomas had progressed to the point where it was time to build his car. In 2011, Billy allowed Thomas to build his cars for the 2012 season. Thomas reflects on that time: "Twenty-eleven was a very exciting time. I didn't know if I was quite ready to jump into a Sportsman, but my grandpa thought I was. We slowly pieced together a car during that summer to get ready for the next year. I was nervous and excited at the same time! It is very special being able to race with my grandpa. I'm sure not many have been able to say that! The memories made are some that I will always cherish."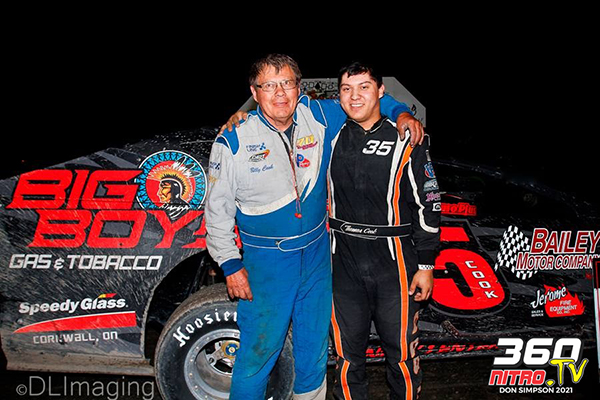 Thomas picked up his first win in 2014 at the Cornwall Motor Speedway. To date, Thomas has 15 wins and has been a contender for the track championship numerous times in the past few years, both at Cornwall Motor Speedway and Mohawk International Raceway.
His championship runs in the past six years have produced two fourth-place finishes, a third-place, and a fifth-place finish. Outstanding results if you consider that Thomas and Elizabeth have done this on a very limited budget. In some cases, Thomas lost out by just a few points because of bad luck on the final points race of the respective season where he could not finish the race.
Bad luck aside, Thomas realizes that this is just a part of racing and takes it as a learning experience. Yes, Thomas has had a steep learning curve as it's one thing to help on a team but it's another thing to campaign your own car. one difference that has been a big helping factor is the fact that Thomas' grandfather is normally close by in the pits as he is still racing and is a wealth of knowledge.
This is just a small part of Thomas's story as his partner, Elizabeth Flanagan, has also been around racing for most of her life as well.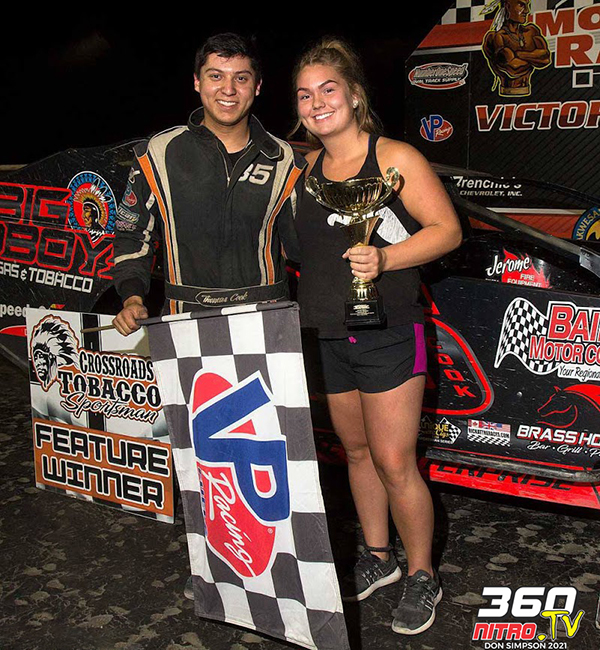 Elizabeth's grandfather, Ron Moran, raced for many years in the Pro Stock division, He was also the owner of the Cornwall Motor Speedway for over four decades. Elizabeth recalls: "I have so many great memories at the Cornwall Speedway, I spent a lot of my childhood there with my family!"
It would seem only fitting that this dynamic duo, both passionate about racing, found each other to create a match made in heaven, as the two campaign Thomas' Sportsman Modified.
Really on any given race night, you will see Elizabeth with tires surrounding her, hard at work grinding the tires, as Thomas changes the shock set-up. This is a small team, but they have shown what it takes to win.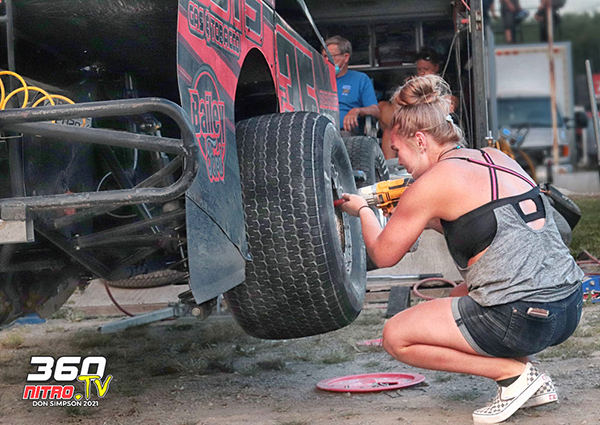 The past eight seasons have been quite a ride for Thomas, as each year has brought new things to learn with some very positive and rewarding moments with consistently good results.
At first, Thomas campaigned the car on his own with guidance and help from his grandfather, but some years ago, Thomas met Elizabeth at the track one night and the rest is history. Elizabeth explains: "Thomas and I met at the race track and I think we clicked so well because we both shared the same love for racing! Before we met, I was more of a spectator, I didn't know much about working on cars. Over the past years, Thomas has taught me a lot from the mechanic's side to set up the car. I enjoy being involved and this keeps me on my toes."
Another factor in all of this is the support from Thomas's mom, Julie. She is always there in the pits with her moral support. Julie recalls: "Thomas has been racing side by side with his grandfather Billy Cook since he was 13 and even before that he was his pitman at age 9. Thomas was always so dedicated to racing and he made it his priority even through his teen years."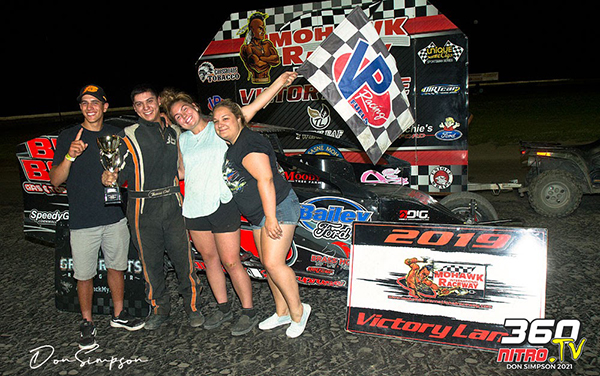 Julie also recalls one of the biggest factors that helped Thomas and his racing endeavor was when Elizabeth began dating Thomas as she also became his biggest helper. Julie explains:" From the first moment that Elizabeth started hanging around and talking to Thomas, I thought they'd be a good match. Her grandfather used to own the Cornwall track and it only makes sense that he found a partner who shares that same love of the sport and embraces it. Elizabeth has been at all of his races since day one and I couldn't be happier that he has found someone so supportive. They make a great team and I'm just grateful to be there to see them working so well together, making memories, and enjoying life together on and off the track."
The 2021 season is fast approaching. What it will bring is unclear. Regardless the Cook Racing Team will be ready to go as Thomas and Elizabeth will be getting the car ready for whatever the season might bring.
Writer / Photographer
Don Simpson