Steve Bernier put on a show of dormice early on in the Egglefield Brothers Ford 358 Modified feature at Airborne Speedway. Bernier who took charge of the Feature race by lap 10 went on to capture his second championship at the legendary speedway in style.
Bernier fought hard all season to keep up with the top group of extraordinary drivers at the Plattsburgh track. Going into the final race Bernier had a 22 point lead over Mike Mahaney followed by Chris Raabe who was a mere 28 points behind.
It was clear from the drop of the green that Steve was on top of his game this night, and would quickly duel for the lead with Chris Raabe. Raabe who took the high grove proved at first to be a tough opponent but on lap 14 Bernier forced his way by Raabe to take the lead. From that point on the St. Hyacinth, Quebec drive was in charge of the race, going on to capture the win along with the 2019 Track Championship, Francois Bernier finished second, with Raabe coming in a close third. Dany Gagne came home fourth, and Jeremy Roy fifth.
In the Hartson Total Opening Pro- Stock Feature C.D. Beauchamp, Marc Lalonde, and Jocelyn Roy came out and put on one of the best races of the season.
Coming into the race Beauchamp had just a six-point lead over Marc Lalonde in the championship points battle setting up a do or dye race for the championship tilt.
From the drop of the green flag, the trio raced side by side until Roy took a slight lead over Beauchamp and Lalonde.
But the two back runners came on mid-race to challenge Roy once again for the lead, setting up a three-way battle.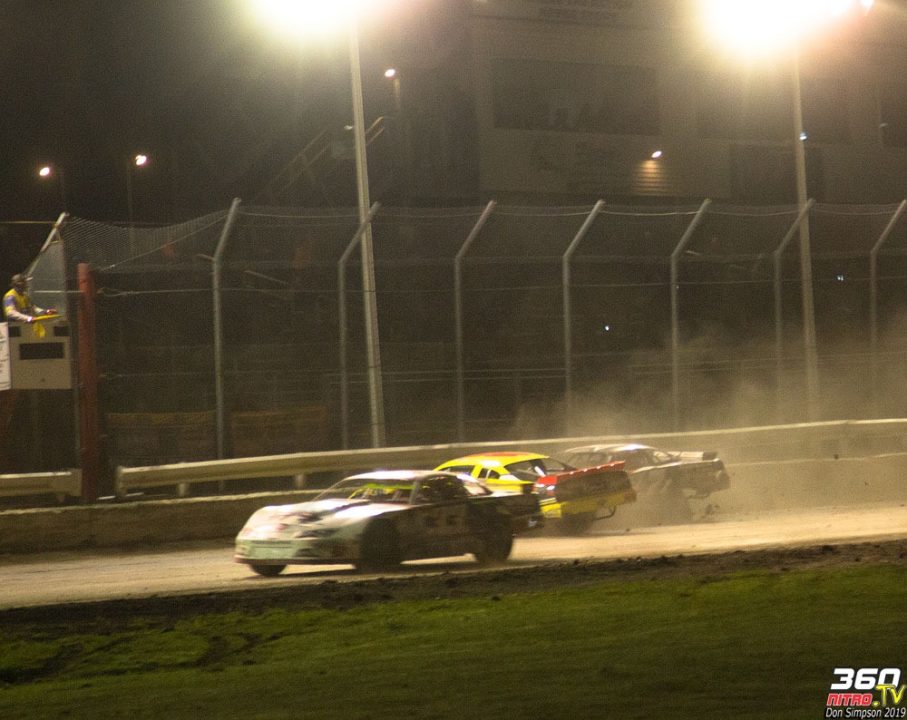 With just three to go Beauchamp got gathered up in a front stretch crash with Nick Stone ending all hopes of the championship.
Roy went on the win followed by Lalonde in second with Pascal Payeur coming home in third.
With Beauchamp misfortunes, Marc Lalonde has crowned the 2019 Pro Stock track Champion, his first in the Pro-Stock division.
The Poirer's True Value Sportsman feature saw Connor Cleveland come home with the win, his seventh of the season at Plattsburgh. But it was Adam Pierson, who came into the final race of the season with a 23 point lead over Cleveland took home the 2019 Track championship title after coming across the line to finish second in the feature race.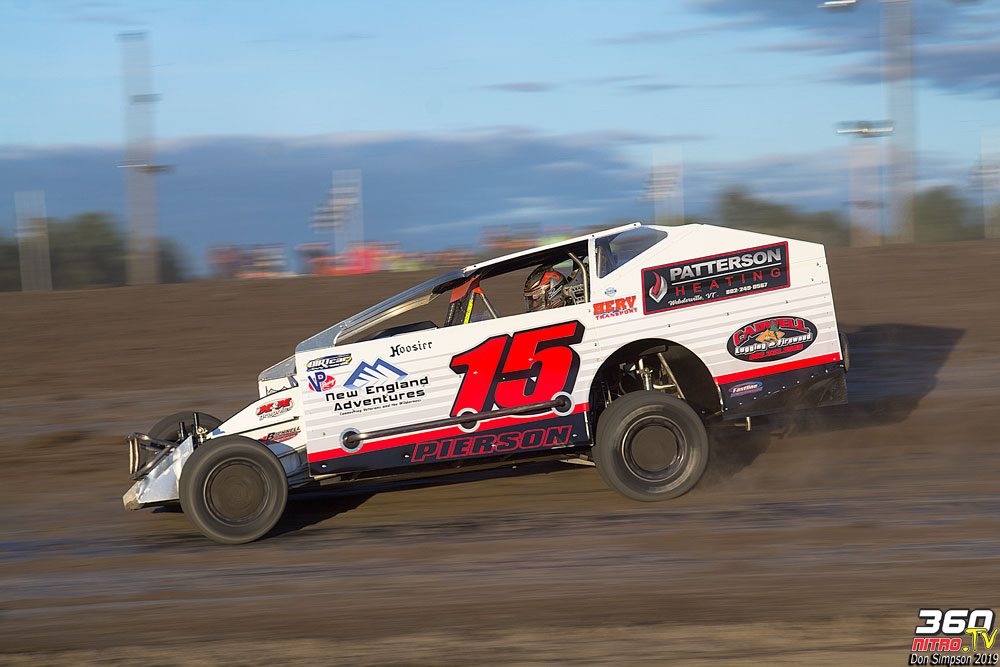 Here are the rest of the feature results.
EGGLEFIELD BROTHERS FORD 358 MODIFIEDS: 1. STEVE BERNIER, 2. Francois Bernier, 3. Chris Raabe, 4. Dany Gagne, 5. Jeremy Roy, 6. Lance Willix, 7. Matt Woodruff, 8. Mike Stacey, 9. Cameron Black, 10. Christophe Lupien, 11. Roger Labreche, 12. Codie Aubin, 13. Ryan McLean, 14. Jack Speshock
POIRER'S TRUE VALUE SPORTSMAN: 1. CONNOR CLEVELAND, 2. Adam Pierson, 3. Justin Severance, 4. Lonnie Rivers, 5. Derrick Mcgrew Jr. 6. Nick Heywood, 7. Travis Bruno, 8. Jamy Begor, 9. Jack Speshock, 10. Chris Cayea, 11. Justin Stone, 12. Jeremy Roy, 13. Bucko Branham, 14. Ricky Thompson, 15. Codie Aubin, 16. Jamie Lafountain, 17. Dylan Rabtoy, 18. Tanner Forbes, 19. Jason McClatchie, 20. Jason Bruno, 21. Felix Roy, 22. Melvin Rush, 23. Brian McGinley, 24. Chris Frennier, DNS- Mike Phinney, DNS- Zach Daniels
HARTSON TOTAL OPENING PRO STOCKS: 1. JOCELYN ROY, 2. Marc Lalonde, 3. Pascal Payeur, 4. Bruno Cyr, 5. Mike White, 6. Burton Ward, 7. Steve Chaput, 8. Jay Fitzgerald, 9. C.D. Beauchamp, 10. Nick Stone
ERNIE'S DISCOUNT TOOLS SUPER STOCK: FEATURE 1: 1. JIM MCKIERNAN, 2. Tylor Terry, 3. Shawn Duquette, 4. Michael Wright, 5. Rolland Guay, 6. Tyler Irwin, 7. Matt Leonard, 8. Jared Blake, 9. Cam Gadue, 10. Joe Daniels, 11. Tony Salerno, 12. Joe Warren, 13. Curt Giventer, 14. John Bradley, DNS- Travis Stokes
ERNIE'S DISCOUNT TOOLS SUPER STOCK FEATURE 2: 1. TYLOR TERRY, 2. Jim Mckiernan, 3. Rolland Guay, 4. Shawn Duquette, 5. Jared Blake, 6. Tyler Irwin, 7. Matt Leonard, 8. Cam Gadue, 9. Joe Daniels, 10. John Bradley, 11. Zach Daniels, 12. Joe Warren, 13. Tony Salerno, 14. Curt Giventer, 15. Michael Wright, 16. Travis Stokes, 17. Josh Terry
CHRIS FRENNIER MOTORSPORTS STRICTLY STOCK FEATURE 1: 1. NATHAN SMART, 2. Josh Laporte, 3. Cody Agoney, 4. Chuck Mooney, 5. Nathaniel Guay, 6. Caleb Tourville, 7. Jake Fountain, 8. Clem Bell, 9. Mike Tompkins, 10. Michael Daniels, 11. Gregory Harris, 12. Mike Whalen
CHRIS FRENNIER MOTORSPORTS STRICTLY STOCK FEATURE 2: 1. NATHAN SMART, 2. Caleb Tourville, 3. Cody Agoney, 4. Chuck Mooney, 5. Mike Tompkins, 6. Jake Fountain, 7. Josh Laporte, 8. Michael Daniels, 9. Clem Bell, DNS- Gregory Harris, DNS- Nathaniel Guay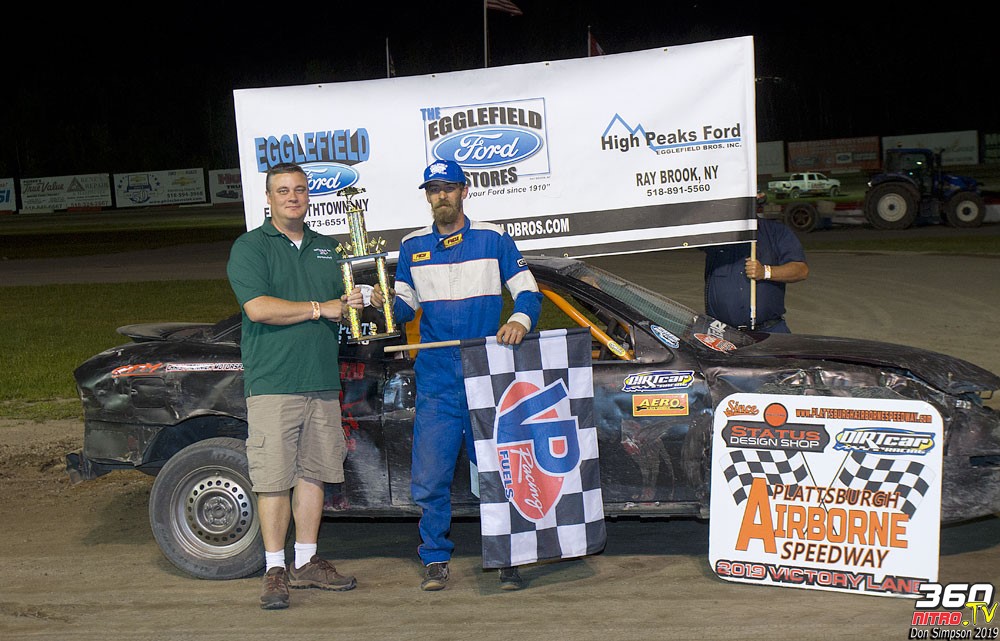 NOVICE SPORTSMAN: 1. Jason Bonnett, 2. Josh Pete, 3. Matt Labombard, 4. Vincent Girouard, 5. Bo Reeves, 6. Jonathan Ru