In just a matter of days, Cornwall Motor Speedway will host the first race in Canada amid the Covid-19 crisis.
With all the testing needed by teams in the history books, the best of the best will do battle at the legendary Cornwall Speedway this coming Saturday, June 6.
The "Back to the Track 50" has attracted drivers like Super DIRTcar Series Champion Mat Williamson, 2019 Mohawk Track Champion Chris Raabe, 2019 Granby and Airborne Track Champion Steve Bernier, 2019 Brockville and Can-Am Speedway Track Champion Ryan Arbuthnot, 2019 Cornwall Motor Speedway Track Champion Corey Wheeler and 2019 Autodrome Drummondville and Le RPM Speedway Champion David Hebert, all battling out for 50 laps.
David Hebert the most winning active Canadian 358 Modified driver is looking to start the season off as he did, finishing 2019 with one of his biggest wins of David's career — The Bullringer 110 at the Brockville Speedways Fall Nationals.
The ONE team, which is always a tough team when it comes to short track racing, will definitely bring their A-game to the Cornwall track. David explains: "I don't see any problems, we are ready to go and this is going to be a very good race. The competition is going to be very good for the 50 laps. With drivers like Bernier, Bernard, Williamson, and Terrance along with some other good drivers, fans should see a good race. Hopefully, we get a good start position, as it is a tough track to start in the rear and to pass. The one thing though, having no fans will be very bizarre."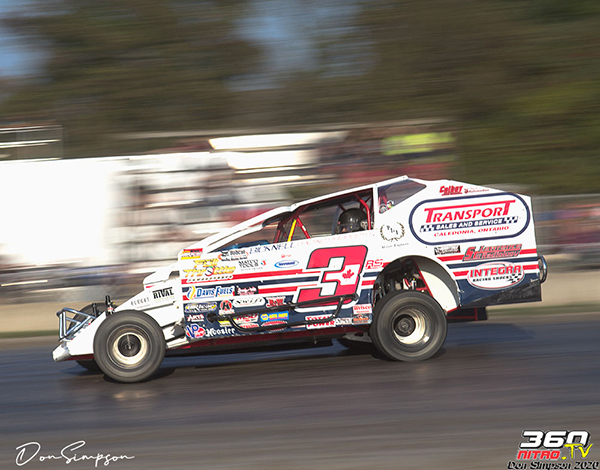 One of the teams from the Western region of Ontario, Slack Racing will make the race. The Slack Racing Team based out of Caledonia, Ontario, will make the long trek to Cornwall Motor Speedway. This historic team has been working Dalton Slack into the driver's seat over the last few years and he is definitely a hard charger. Dalton explains: "I am just really excited to be back behind the wheel of a race car. It's been a long off-season and I can't wait to get that competitive feeling back. I wish there were fans in the stands to support this great racetrack, but any kind of racing is good with me."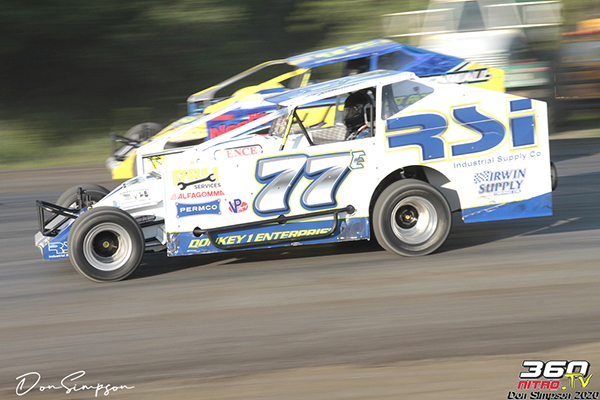 Also on the card that night will be a 50-lap Sportsman race where 30 of the best Sportsman drivers will challenge for the win. Drivers like 2019 Merrettville Speedway Track Champion Brad Rouse, 2019 Le RPM Speedway Track Champion Even Racine and Cornwall Motor Speedway's Ryan Stabler, along with 27 more top-notch drivers will battle for the win.
A recent addition to this once in a lifetime event will be a 50-lap Mini Stock race, comprising of 18 of the best Mini Stock drivers in the East.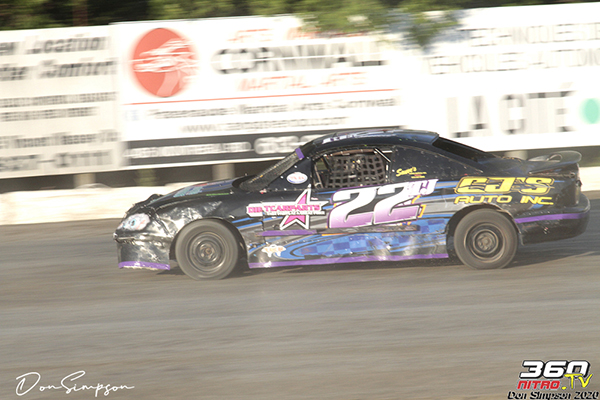 The 2019 Cornwall Speedways Track champion Justin Jodoin is very excited that the speedway adds the Mini Stock class to the program. Justin explains: "I think it's great that we get to put on a show for the June 6 race and show the fans what we have. We have drivers coming from Brighton like Thomas Bailey. He is always fast up there at Brighton and the Quebec guys are always good and with the Cornwall regulars. This is going to be really good racing. Can't thank the Lavergne family enough for putting the races on for us."
Times are definitely different during this pandemic and this race will be one of those events, which you will never forget, a live race with no fans.
Will this be a one-off or will there be more races in the future? I asked track owner Raymond Lavergne this question. Raymond explained: "Well we will see after the race how good the idea was and if financially it went well. There is a lot of work behind the scenes that people don't see. Also with the registration on line, we will see if teams cooperated well with this process. If there is no cooperation with teams, there will be no further races, as we need everybody to work together as one team to pull this race off.
"Being the first race in Canada like this, I took the chance financially to see if we could pull this off. We will see the result after the race and for future races; we don't know what the Covid-19 will pitch at us. LOL it changes every day so it's real hard to predict anything right now. I hope if we can do more races, but like I said, all the pieces have to fall into place before we can even think of having a second event."
Historic for sure, this race is no like other, a race with over 80 race teams on hand, without any fans at the Cornwall Motor Speedway.  The race can be seen in the comfort of your home in its entirety on 360nitro.tv. This must-see event starts with the pre-race show starting just after 6:00 p.m. The green flag will drop on this historic race at 7:00 p.m., live from the Cornwall Motor Speedway. For those fans wishing to see the race, it can be purchased by clicking here: Buy Back to the Track 50