Les entrevues de la soirée ici : https://zone360.tv/2019/06/09/entrevues-soiree-vintage-a-cornwall
Cornwall, Ont – dimanche 9 juin, 2019 – Martin Bélanger – C'était soir d'aubaines au Cornwall Motor Speedway ce dimanche alors que l'admission générale était à $5. Beaucoup d'action en piste alors que 5 catégories étaient en piste en cette soirée commanditée par BDO Canada LLP.
Mario Clair était le meneur dans la division Modifié Loud and Dirty sur Dany Gagné et Brian McDonald. Clair prenait de bonnes avances lorsque la finale prenait du momentum mais devait être vigilant lors des relances alors que Gagné tentait le tout pour le tout dans ces conditions. Clair mène tous les tours pour remporter la victoire sur Gagné et Mcdonald.
Johnathan Ferguson prend les commandes dans la finale de 25 tours Next Level Home Improvement Sportsman sur Shane Pecore et Justin Lalancette, en bataille pour la 2e place au 5e tour. La relance au 10e tour est la clé pour Pecore alors qu'il dépasse Ferguson de l'extérieur pour la première place. Ce dernier avait la voiture la plus rapide et n'a jamais été menacé pour ainsi remporter la victoire, sa 3e de suite.
La finale de 20 tours Pro-Stock Alexandria Home Hardware était la dernière en piste alors qu'Alex Gagnon apport le rouge au premier tour. Dave Bissonnette était rapide dès le départ sur Stephane Lebrun. Bissonnette mène tous les tours pour remporter la victoire.
Beaucoup d'action dans la finale de 20 tours Eastern Ontario Vintage Club avec Kenny Polite en première position par la mi-course sur Jason Powers. Alors que Polite prend une bonne avance, Powers a une bonne bataille avec Paul Billings. Polite vogue vers la victoire sur Powers et Billings.
Dans la finale de 15 tours Assist2Sell Mini-Stock, Yanik Potvin est le meneur avec Justin Jodoin en 2e et James Clarke en 3e. Potvin mène le bal avec Jodoin et Clarke le suivant de près. Jodoin avait une voiture rapide et prend les commandes à la mi-course. Jodoin mène les derniers tours et remporte la victoire, sa 2e de suite dans la division.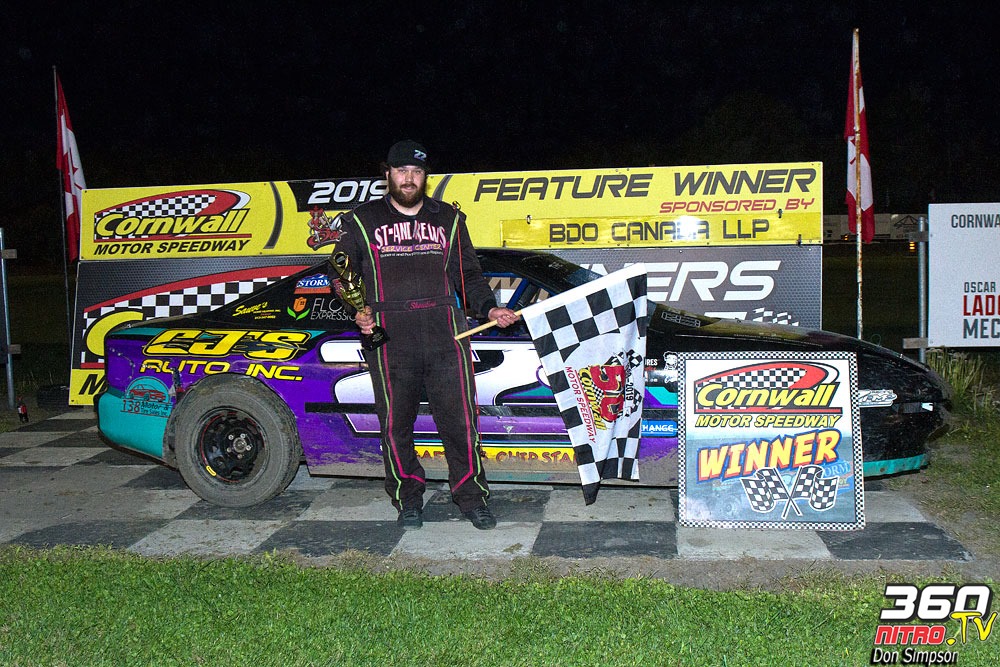 Un autre programme excitant dimanche prochain avec la 2e visite des Lightning Sprints en plus d'un programme complet.
Pour d'informations, vous pouvez visiter le site web au www.cornwallspeedway.com, ajoutez-nous sur Facebook au www.facebook.com/cornwallspeedway, joignez-vous sur Twitter sous le compte @cms_speedway ou Instagram sous Cornwall Speedway, nous utiliserons ces plateformes de réseaux sociaux pour les résultats ainsi que de nombreux tirages.
Résultats Loud and Dirty Modified (30 tours)
MARIO CLAIR, DANY GAGNE, BRIAN MCDONALD, CHRIS RAABE, CAREY TERRANCE, KYLE DINGWALL, STEPHANE LAFRANCE, JOEY LADOUCEUR, KEVIN HAMEL, LEE LADOUCEUR, LOUIE JACKSON JR, MARC THERRIEN, KAYLE ROBIDOUX, PAUL HAMEL, COREY WHEELER, TRISTAN DRAPER, DAVID HEBERT, LUKE WHITTEKER
Résultats Next Level Home Improvement Sportsman (25 tours)
SHANE PECORE, JOHNATHAN FERGUSON, JUSTIN LALANCETTE, RYAN STABLER, GABRIEL CYR, MOISE PAGE, DELBERT LEGROW, COREY WINTERS, SCOTT MCGILL, JUSTIN DESROSIERS, BOB RAY, RICKY THOMPSON, BRIANNA LADOUCEUR, KURTIS CAYER, JASON ROSE, KARL POTVIN, DENIS FORGUES, BILLY COOK, JASON SHIPCLARK, DEVIN WILLIS, ADAM ROZON, CHRIS FERGUSON, THOMAS COOK
Résultats Alexandria Home Hardware Pro-Stock (20 tours)
DAVE BISSONNETTE, STEPHANE LEBRUN, KEVIN FETTERLY, DAVE SEGUIN, BURTON WARD, ERIC JEAN-LOUIS, ALEX GAGNON, MARC LALONDE, ROCH AUBIN
Résultats Tracy Wheeler Assist2Sell Mini-Stock (15 tours)
JUSTIN JODOIN, JAMES CLARKE, DAVE ARBUTHNOT, MARC DAGENAIS, ALEXIS CHARBONNEAU, JEMERIE GOYETTE, JEAN-CHRISTOPHE BOUCHARD, YANIK POTVIN, FRANCIS DESJARDINS, SHAWN DUVAL, THOMAS MACDONALD, BRANDON MACMILLAN
---
Mario Clair rockets to the win at Cornwall Motor Speedway!
Cornwall, Ont – Sunday, June 9, 2019 – Martin Bélanger – It was bargain night at Cornwall Motor Speedway with general admission at only 5$, a great night of racing in 5 classes. BDO Canada LLP was sponsoring the evening.
Mario Clair was the early leader in the Loud and Dirty 30-lap Modified feature over Dany Gagné and Brian McDonald. Clair was quick when the race got momentum, but he had to be careful on a few restarts as Gagné had a few chances to take the lead on these conditions. Clair led all 30 laps to score the win, his first of the year over Gagné and McDonald.
Johnathan Ferguson took the lead in the 25-lap Next Level Home Improvement Sportsman feature over Shane Pecore and Justin Lalancette in battle for second spot by lap 5. A lap 10 restart saw Pecore taking the lead from the outside over Ferguson and Lalancette running in third. Pecore had the quickest car on the speedway and led the final portion of the race to claim his third feature in a row.
The 20-lap Alexandria Home Hardware Pro-Stock feature saw Alex Gagnon landing on his roof on lap 1 and red was out, Gagnon was ok. Dave Bissonnette was quick on the restart and took the lead over Stephane Lebrun. Bissonnette broke the Lebrun and won the event.
A lot of action in the 20-lap Eastern Ontario Vintage Club as Kenny Polite pulled in front before the halfway point in front of Jason Powers. While Polite pulled away in the final laps Powers got into battle with Paul Billings. Polite went on to win over Powers and Billings.
In the 15-lap Assist2Sell Mini-Stock division Yanik Potvin took the lead as Justin Jodoin jumped to second with James Clarke in third. Potvin held his way in first with Jodoin Clarke. Jodoin had a strong ride and passed Potvin for first at halfway point. Jodoin never looked back and got his second feature in a row in the division.
Another great event next week as the Lightning Sprints are back for a second time this season along with a complete program in all divisions.
For more information on the upcoming season at Cornwall, please visit the website at www.cornwallspeedway.com you can add us on Facebook at www.facebook.com/cornwallspeedway , twitter at @cms_speedway, and now on Instagram under Cornwall Speedway, we will use these media platforms for results and contests over the summer.
Loud and Dirty Modified Results (30 laps)
MARIO CLAIR, DANY GAGNE, BRIAN MCDONALD, CHRIS RAABE, CAREY TERRANCE, KYLE DINGWALL, STEPHANE LAFRANCE, JOEY LADOUCEUR, KEVIN HAMEL, LEE LADOUCEUR, LOUIE JACKSON JR, MARC THERRIEN, KAYLE ROBIDOUX, PAUL HAMEL, COREY WHEELER, TRISTAN DRAPER, DAVID HEBERT, LUKE WHITTEKER
Next Level Home Improvement Sportsman Results (25 laps)
SHANE PECORE, JOHNATHAN FERGUSON, JUSTIN LALANCETTE, RYAN STABLER, GABRIEL CYR, MOISE PAGE, DELBERT LEGROW, COREY WINTERS, SCOTT MCGILL, JUSTIN DESROSIERS, BOB RAY, RICKY THOMPSON, BRIANNA LADOUCEUR, KURTIS CAYER, JASON ROSE, KARL POTVIN, DENIS FORGUES, BILLY COOK, JASON SHIPCLARK, DEVIN WILLIS, ADAM ROZON, CHRIS FERGUSON, THOMAS COOK
Alexandria Home Hardware Pro-Stock Results (20 laps)
DAVE BISSONNETTE, STEPHANE LEBRUN, KEVIN FETTERLY, DAVE SEGUIN, BURTON WARD, ERIC JEAN-LOUIS, ALEX GAGNON, MARC LALONDE, ROCH AUBIN
Tracy Wheeler Assist2Sell Mini-Stock Results (15 laps)
JUSTIN JODOIN, JAMES CLARKE, DAVE ARBUTHNOT, MARC DAGENAIS, ALEXIS CHARBONNEAU, JEMERIE GOYETTE, JEAN-CHRISTOPHE BOUCHARD, YANIK POTVIN, FRANCIS DESJARDINS, SHAWN DUVAL, THOMAS MACDONALD, BRANDON MACMILLAN