Les entrevues de la soirée ici : https://zone360.tv/2019/05/26/entrevues-du-cornwall-motor-speedway
Cornwall, Ont – dimanche 26 mai, 2019 – Martin Bélanger – Le Cornwall Motor Speedway présentait son 2e programme de la saison alors que la série Lightning Sprints était en ville pour leur première de 3 visites à la piste. The Co-Operators commanditait la soirée.
Kevin Hamel mène le bal dans la finale de 30 tours Loud and Dirty Modifié avec Brian McDonald et Chris Raabe. Hamel brise un amortisseur et McDonald prend les devants au 8e tour avec Raabe et Wheeler dans les 3 premiers. McDonald s'approche des retardataires vers la mi-course avec Raabe et Luke Whitteker dans les premiers. Whitteker avait une bonne voiture et dépasse Raabe au 7e tour et regarde pour la première de McDonald. La voiture de Whitteker a des ennuis à 3 tours de la fin. McDonald mène la dernière portion de la finale et remporte la victoire.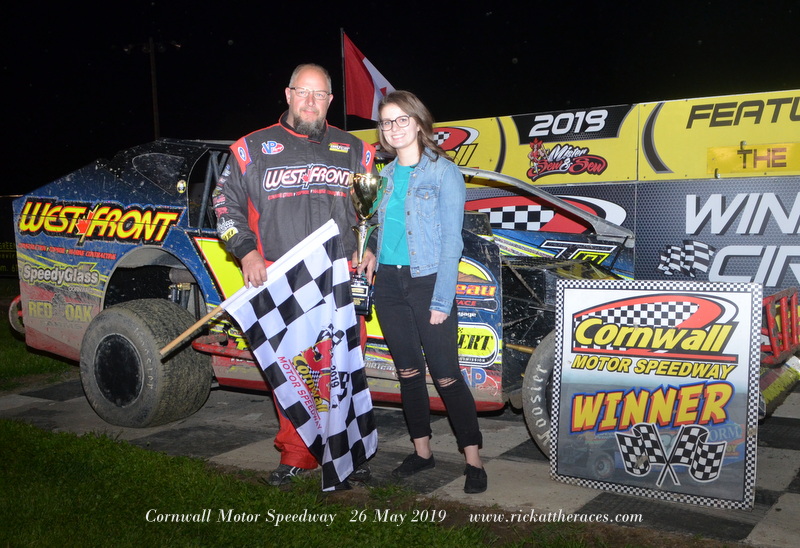 Dans la finale Sportsman Next Level Home Improvement, Johnathon Ferguson aux commandes devant Ryan Stabler qui monte au 2e rang et Jon Mills au 3e rang. Au 8e tour, Stabler à l'avance au 8e tour avec Ferguson et Shane Pecore en 3e. Quelques neutralisations surviennent avec Stabler demeurant premier tout en confrontant Pecore. Jesse Hudson amène le rouge au 21e tour avec un tonneau devant la grande estrade. À la relance, Pecore parvient à dépasser Stabler et mène les derniers tours pour remporter sa 2e victoire consécutive.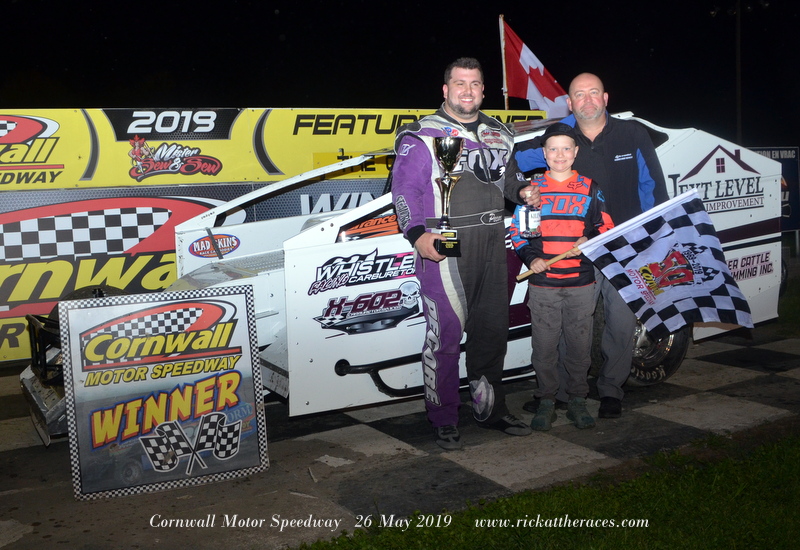 Yanik Poirier prend les devants dans la finale de 25 tours Lightning Sprint sur son fils Jordan et Pascal Levesque. Sur une relance au 2e tour, Jordan Poirier aux commandes avec Mathieu Bardier maintenant au 2e rang et Yanick Poirier au 3e rang. La finale prend un bon rythme et les meneurs se retrouvent dans la circulation, Bardier parvient à se rapprocher de Jordan. Jeffrey Weare apporte le jaune avec 3 tours à faire. Poirier mène les derniers tours sur Bardier et Yanick Poirier.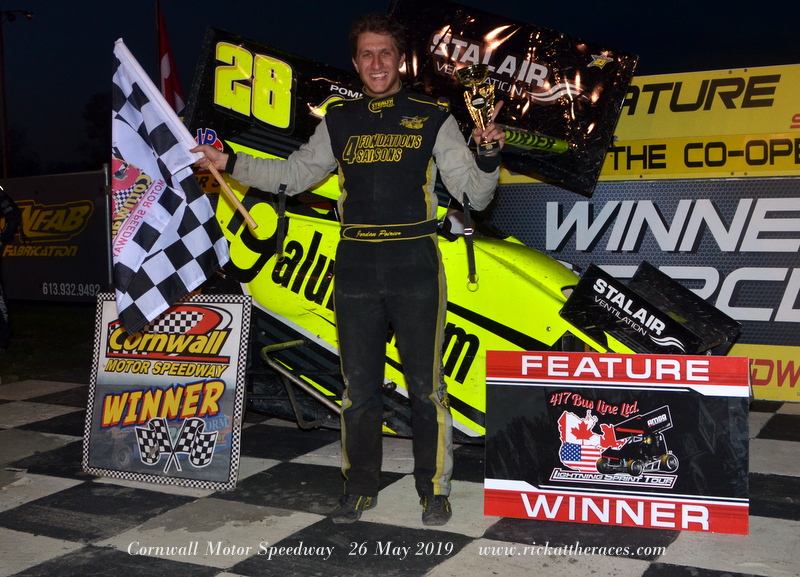 Dans la finale de 25 tours Alexandria Home Hardware Pro-Stock, Stephane Lebrun aux commandes avec Rock Aubin et Marc Lalonde le top 3. Aubin prend la première lors de la relance au 5e tour et prend une bonne avance sur le peloton avec Lebrun toujours au 2e rang. Aubin perd son avance alors qu'il a des ennuis avec 5 tours à effectuer, Lebrun revient en tête, ce dernier mène la dernière portion pour remporter une 2e victoire consécutive.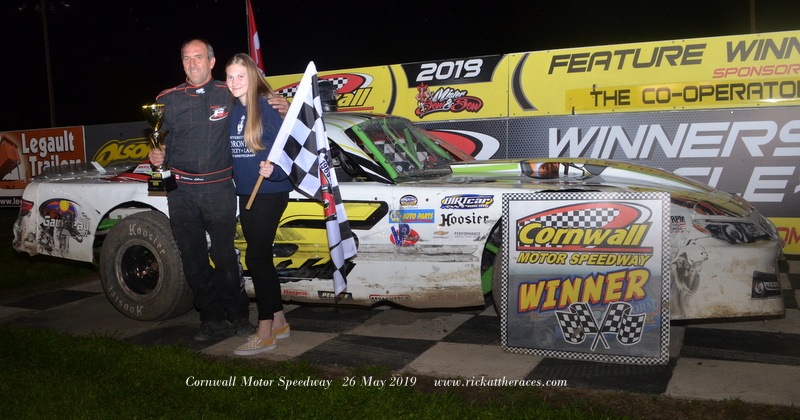 La catégorie Tracy Wheeler Assist2Sell Mini-Stock était la première finale en piste, Chris James prend les commandes sur Yanik Potvin et Marc Dagenais. Justin Jodoin avait une voiture très rapide et monte le peloton de l'extérieur. À la mi-course, Dagenais avait la première place sur Mike Gaucher et Alexis Charbonneau. Jodoin avait la voiture la plus rapide et prend les commandes dans les derniers tours pour remporter la victoire.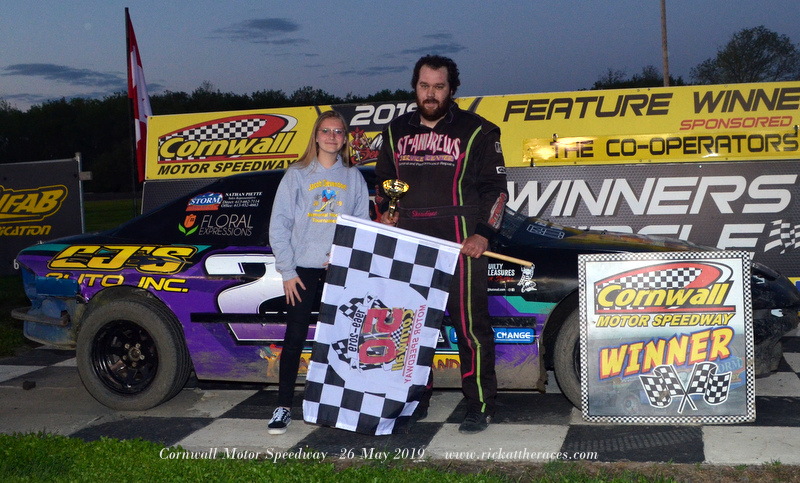 Les amateurs de Sprint Car seront comblés pour une 2e semaine consécutive alors que la série Empire Super Sprints sera en ville la semaine prochaine pour leur visite annuel en plus d'un programme complet dans toutes les divisions, les Pro-Stock auront congés.
Pour plus d'informations, vous pouvez visiter le site web au www.cornwallspeedway.com, ajoutez-nous sur Facebook au www.facebook.com/cornwallspeedway, joignez-vous sur Twitter sous le compte @cms_speedway ou Instagram sous Cornwall Speedway, nous utiliserons ces plateformes de réseaux sociaux pour les résultats ainsi que de nombreux tirages.
Résultats Loud and Dirty Modified (30 tours)
BRIAN MCDONALD, CHRIS RAABE, COREY WHEELER, MARC THERRIEN, KYLE DINGWALL, JOEY LADOUCEUR, YAN BUSSIERE, MARIO CLAIR, CAREY TERRANCE, DAVID HEBERT, LOUIE JACKSON JR, LEE LADOUCEUR, MARTIN HEBERT, J-F CORRIVEAU, DANY GAGNE, MICHAEL LABRECHE, LUKE WHITTEKER, TRISTAN DRAPER, KEVIN HAMEL
Résultats Next Level Home Improvement Sportsman (25 tours)
SHANE PECORE, RYAN STABLER, THOMAS COOK, GABRIEL CYR, JOHN MILLS, JASON SHIPCLARK, TRAVIS BRUNO, MOISE PAGE, JOHNATHAN FERGUSON, ADAM ROZON, LONNIE RIVERS, ZACH ARQUIETT, KURTIS CAYER, BILLY COOK, COREY WINTERS, JUSTIN DELORMIER, SCOTT MCGILL, JASON ROSE, CHRISTIAN SMOKE, JASON BRUNO, JUNIOR DELORMIER, ANTOINE PARENT, KARL POTVIN, DEVIN WILLIS, JESSE HUDSON, BOB RAY, BRIANNA LADOUCEUR, JEFFREY LAPALME, CHRIS FERGUSON, DELBERT LEGROW, JUSTIN LALANCETTE
Résultats Alexandria Home Hardware Pro-Stock (25 tours)
STEPHANE LEBRUN, DAVE SEGUIN, CD BEAUCHAMP, BURTON WARD, MARC LALONDE, ERIC JEAN-LOUIS, DAVE BISSONNETTE, ROCH AUBIN, KEVIN FETTERLY, MIKE BLAIS
Résultats Tracy Wheeler Assist2Sell Mini-Stock (15 tours)
JUSTIN JODOIN, ALEXIS CHARBONNEAU, MARC DAGENAIS, TYLER LAMARCHE, THOMAS MACDONALD, JEAN-CHRISTOPHE BOUCHARD, MIKE GAUCHER, CHRIS JAMES, YANIK POTVIN, BRANDON MACMILLAN, JAMES CLARKE, SHAWN DUVAL
---
Brian McDonald wins at Cornwall Motor Speedway!
Cornwall, Ont – Sunday, May 26, 2019 – Martin Bélanger – The Cornwall Motor Speedway presented his second program of the season as they hosted the Lightning Sprints in town for their first of 3 visits at the speedway along with a complete race program presented by the Co-Operators.
Kevin Hamel charged to the lead in the 30-lap Loud and Dirty Modified feature with Brian McDonald and Chris Raabe. Hamel broke a shock on his ride and McDonald took the lead on lap 8 with Raabe and Wheeler the top 3. McDonald got into heavy traffic by midway as Raabe and Luke Whitteker joined the lead pack. Whitteker had a good ride has he passed Raabe for second with 7 laps to go and set sights on McDonald. Whitteker's ride let up with 3 to go. McDonald let the final laps to win his first of the season.
In the Next Level Home Improvement Sportsman feature, Johnathon Ferguson to the lead with Ryan Stabler quickly moved to second and John Mills in third. On lap 8 restart, Stabler to the lead with Ferguson and Shane Pecore to third. A few cautions slowed the field down and Stabler was able to remain first with Pecore trying to make his move. Jessie Hudson brought the red on lap 21 as he landed on his roof, on the next restart, Pecore had a good jump and took the lead with Stabler in second, Pecore led the final circles to win his second in a row.
Yanik Poirier took the lead in the 25-lap Lightning Sprint over his son Jordan and Pascal Levesque. On a lap 2 restart, Jordan Poirier to the lead with Mathieu Bardier in second and Yanick Poirier. The feature picked momentum as they quickly got to halfway point with the leaders within lap traffic, Bardier was able to get closer to Poirier. Jeffrey Weare brought caution with 3 laps to go. Poirier led the final laps to win over Bardier and Yanick Poirier.
In the 25-lap Alexandria Home Hardware Pro-Stock feature, Stephane Lebrun jumped to the lead with Rock Aubin and Marc Lalonde in third. Aubin to the lead on a lap 5 restart and pulled away from the rest of the field with Lebrun holding on to second. Aubin lost his big lead as his car let up with 5 laps to go giving back the lead to Lebrun. The veteran driver led the final laps and got his second win in a row.
The Tracy Wheeler Assist2Sell Mini-Stock was the first feature on the speedway, Chris James took the early lead over Yanik Potvin and Marc Dagenais. Justin Jodoin was on the charge as he found something on the outside moving up to second by lap 4 but got too high and lost some grounds. At halfway point, Marc Dagenais took the lead using the inside lane. Dagenais in front over Mike Gaucher and Alexis Charbonneau. Jodoin had a quick ride and took the lead and never looked back to win his first ever feature win.
Sprint Car fans will be pleased for a second week in a row as the Empire Super Sprints will make their annual trek to the speedway net Sunday along with a full program, the Pro-Stock will have the night off.
For more information on the upcoming season at Cornwall, please visit the website at www.cornwallspeedway.com you can add us on Facebook at www.facebook.com/cornwallspeedway , twitter at @cms_speedway, and now on Instagram under Cornwall Speedway, we will use these media platforms for results and contests over the summer.
Loud and Dirty Modified Results (30 laps)
BRIAN MCDONALD, CHRIS RAABE, COREY WHEELER, MARC THERRIEN, KYLE DINGWALL, JOEY LADOUCEUR, YAN BUSSIERE, MARIO CLAIR, CAREY TERRANCE, DAVID HEBERT, LOUIE JACKSON JR, LEE LADOUCEUR, MARTIN HEBERT, J-F CORRIVEAU, DANY GAGNE, MICHAEL LABRECHE, LUKE WHITTEKER, TRISTAN DRAPER, KEVIN HAMEL
Next Level Home Improvement Sportsman Results (25 laps)
SHANE PECORE, RYAN STABLER, THOMAS COOK, GABRIEL CYR, JOHN MILLS, JASON SHIPCLARK, TRAVIS BRUNO, MOISE PAGE, JOHNATHAN FERGUSON, ADAM ROZON, LONNIE RIVERS, ZACH ARQUIETT, KURTIS CAYER, BILLY COOK, COREY WINTERS, JUSTIN DELORMIER, SCOTT MCGILL, JASON ROSE, CHRISTIAN SMOKE, JASON BRUNO, JUNIOR DELORMIER, ANTOINE PARENT, KARL POTVIN, DEVIN WILLIS, JESSE HUDSON, BOB RAY, BRIANNA LADOUCEUR, JEFFREY LAPALME, CHRIS FERGUSON, DELBERT LEGROW, JUSTIN LALANCETTE
Alexandria Home Hardware Pro-Stock Results (25 laps)
STEPHANE LEBRUN, DAVE SEGUIN, CD BEAUCHAMP, BURTON WARD, MARC LALONDE, ERIC JEAN-LOUIS, DAVE BISSONNETTE, ROCH AUBIN, KEVIN FETTERLY, MIKE BLAIS
Tracy Wheeler Assist2Sell Mini-Stock Results (15 laps)
JUSTIN JODOIN, ALEXIS CHARBONNEAU, MARC DAGENAIS, TYLER LAMARCHE, THOMAS MACDONALD, JEAN-CHRISTOPHE BOUCHARD, MIKE GAUCHER, CHRIS JAMES, YANIK POTVIN, BRANDON MACMILLAN, JAMES CLARKE, SHAWN DUVAL