Cornwall, Ont – dimanche 19 mai, 2019 – Martin Bélanger – C'était soirée d'ouverture au Cornwall Motor Speedway avec les premières manches des séries Canadian Nationals et Race for the Cure en plus des séries Weekend Warriors en cette soirée commandité par Gerdau Ameristeel.
JF Corriveau mène le bal dans la finale de 100 tours Fat Les Chip Stand Canadian Nationals quand Mathieu Laramee se ramasse sur son toit et le rouge sort au 1er tour. À la relance, Corriveau demeure premiere devant Yan Bussiere et Corey Wheeler in third. While Corriveau était en première avec Steve Bernard et Wheeler avec 20 tours dans les livres. Corriveau effectue un bon travail aux commandes devant Bussière. Au 52e tour, Bussière surprend Corriveau pour les commandes alors que Wheeler suit la voiture #96 de Corriveau de près. Bussière et Corriveau se battent pour la première pendant la dernière portion de la finale alors que Luke Whitteker est au 3e rang. Bussière résiste et remporte la victoire devant Corriveau et Whitteker.
Moise Page est le meneur dans la finale de 100 tours Race for the Cure Sportsman alors que Robert Delormier et Jason Shipclark est 3e. Page toujours en première avec plusieurs changements de positions derrière le meneur avec Justin Lalancette qui tombe au 3e rang par le 25e tour. Le rouge sort au tour suivant pour Ricky Thompson. Pagé demeure aux commandes jusqu'à une neutralisation au 45e tour, à la relance Lalancette en profite pour obtenir la première place avec Shane Pecore maintenant 3e. Lalancette toujours premier avec Pecore au 2e rang et Ryan Stabler 3e au 75e tour. Pecore dépasse Lalancette au 76e tour. Pecore ne regarde jamais à l'arrière et remporte une première victoire cette saison devant Stabler et Cayer.

Une finale Pro-Stock Weekend Warrior très enlevante avec Dave Bissonnette mène le bal mais se fait passer par CD Beauchamp au 3e tour. Beauchamp avait de la compagnie en Rock Aubin vers la mi-course, les 2 pilotes roulent côte à côte pour plusieurs tours quand il y a contact entre les 2 pilotes au 17e tour. Cela profite à Stephane Lebrun qui prend la première, ce dernier ne regarde jamais à l'arrière et remporte la victoire.
Nicholas Lamoureux a remporté sa première victoire en Mini-Stock qui comptait également pour la série Weekend Warriors.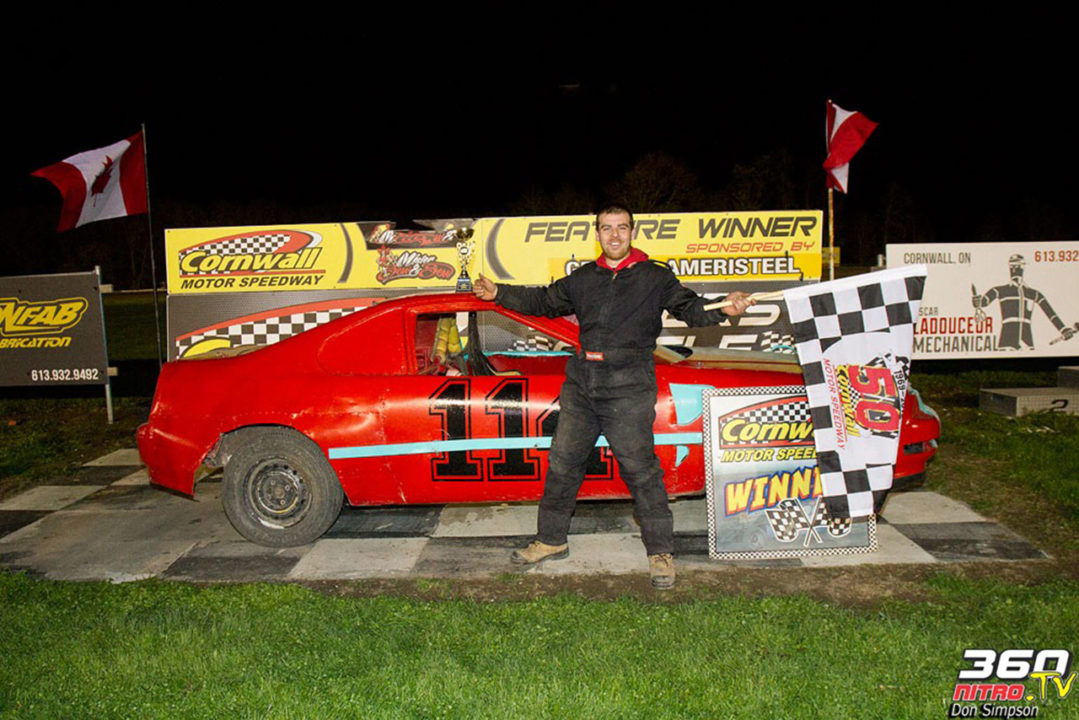 La série Lightning Sprints sera présente la semaine prochaine en plus d'un programme complet dans les autres divisions.
Pour plus d'informations, vous pouvez visiter le site web au www.cornwallspeedway.com, ajoutez-nous sur Facebook au www.facebook.com/cornwallspeedway, joignez-vous sur Twitter sous le compte @cms_speedway ou Instagram sous Cornwall Speedway, nous utiliserons ces plateformes de réseaux sociaux pour les résultats ainsi que de nombreux tirages.
Fat Les Chip Stand Canadian Nationals Résultats Modifiés (100 tours)
YAN BUSSIERE, J-F CORRIVEAU, LUKE WHITTEKER, DAVID HEBERT(DQ), COREY WHEELER, CHRIS RAABE, CAREY TERRANCE, KYLE DINGWALL, STEVE BERNIER, MARIO CLAIR, TIM FULLER, MIKE MARESCA, STEVE BERNARD, LEE LADOUCEUR, DANY GAGNE, MICHAEL PARENT, JOEY LADOUCEUR, MATHIEU BOISVERT, LOUIE JACKSON JR, PRESTON FORBES, MARC THERRIEN, BRIAN MCDONALD, KAYLE ROBIDOUX, KEVIN HAMEL, MICHAEL LABRECHE, TRISTAN DRAPER, MATHIEU LARAMEE
Résultats Race for the Cure Sportsman (100 tours)
SHANE PECORE, RYAN STABLER, KURTIS CAYER, JOHNATHAN FERGUSON, JASON SHIPCLARK, ZACH ARQUIETT, THOMAS COOK, BRIANNA LADOUCEUR, GABRIEL CYR, JEFFREY LAPALME, ALEX GAGNON, JUSTIN DELORMIER, DENIS FORGUES, ALEX LIZOTTE, JUSTIN LALANCETTE, MOISE PAGE, JASON ROSE BOB RAY, GENEVA SHEFFIELD, ROBERT DELORMIER, JARRET HERBISON, CEDRIC GAUVREAU, KAVEN POLIQUIN, CHRIS FERGUSON, DEVIN WILLIS, RICKY THOMPSON, JUNIOR DELORMIER, ADAM ROZON, COREY WINTERS, CHRISTIAN SMOKE
Résultats Weekend Warriors Pro-Stock (30 tours)
STEPHANE LEBRUN, ROCH AUBIN, DAVE SEGUIN, CD BEAUCHAMP, MARC LALONDE, PIERRE-OLIVIER BREAULT, DAVE BISSONNETTE, BURTON WARD, ERIC JEAN-LOUIS, KEVIN FETTERLY, MIKE BLAIS
Résultats Weekend Warriors Mini-Stock (20 tours)
NICHOLAS LAMOUREUX, YANIK POTVIN, JUSTIN JODOIN, MARC DAGENAIS, MATTHEW MOORE, THOMAS MACDONALD, ALEXIS CHARBONNEAU, JAMES CLARKE, TYLER LAMARCHE, SHAWN DUVAL
---
Yan Bussière and Shane Pecore, big winners at Cornwall Motor Speedway!
Cornwall, Ont – Sunday, May 19, 2019 – Martin Bélanger – Cornwall Motor Speedway started with a big night with the Canadian Nationals Modified Series and Race for the Cure Sportsman Series plus the Weekend Warriors Pro-Stock Series sponsored by Gerdau Ameristeel.
JF Corriveau led the way in the 100-lap Fat Les Chip Stand Canadian Nationals when Mathieu Laramee landed on his roof on lap 1. On the restart, Corriveau remained in the lead as Yan Bussiere was in second and Corey Wheeler in third. While Corriveau was in the lead a good battle for third with Steve Bernard and Wheeler as Bernard had the edge with 20 laps in the books. Corriveau did a good job in front while in lap traffic. Corriveau got surprised by Bussière in the backstretch on lap 52 and Wheeler was on the heels of Corriveau for several laps. Both Corriveau and Bussiere battled for the lead as Bussiere had the advantage with 25 laps to go. Bussiere leading the way as David Hebert challenged Whitteker for third with 10 laps to go. Bussiere led the final portion to get his biggest win at Cornwall over Corriveau et Whitteker.
Moise Page took the lead in the Race for the Cure Sportsman Series feature as Robert Delormier and Jason Shipclark in third. Page still in the lead as many changes in the back of him as Justin Lalancette made his way to third by lap 25. The red flag waved on the following lap as Ricky Thompson landed on his roof. Page was in the as a lap 46 restart was beneficial for Lalancette as he took the lead over Page with Shane Pecore running in third. Lalancette led the way but Pecore was on his backbumper while Pagé was in third. Pagé had handling issues and Ryan Stabler took third with 75 laps completed. Pecore made the move on Lalancette on lap 76 and got the lead over Lalancette. Pecore started to pull away from the field as Lalancette got challenged from Stabler and Kurtis Cayer. Lalancette broke something on his car and gave away his spot-on lap 88. Pecore never looked back and got the feature win over Stabler and Cayer completing the podium.
A very entertaining Weekend Warriors Pro-Stock feature as Dave Bissonnette led the way but got passed by CD Beauchamp on lap 3. Beauchamp had company in Rock Aubin at the halfway point while both drivers ran side by side for several laps, they got together in the backstretch on lap 17 and Beauchamp had to go to rear. Lebrun led the final laps and got the win
Nicholas Lamarche won the Weekend Warriors Mini-Stock feature, his first career win.
Join us next week as the Lightning Sprints will be in town next Sunday along with a complete program.
For more information on the upcoming season at Cornwall, please visit the website at www.cornwallspeedway.com you can add us on Facebook at www.facebook.com/cornwallspeedway , twitter at @cms_speedway, and now on Instagram under Cornwall Speedway, we will use these media platforms for results and contests over the summer.
Fat Les Chip Stand Canadian Nationals Results (100 laps)
YAN BUSSIERE, J-F CORRIVEAU, LUKE WHITTEKER, DAVID HEBERT(DQ), COREY WHEELER, CHRIS RAABE, CAREY TERRANCE, KYLE DINGWALL, STEVE BERNIER, MARIO CLAIR, TIM FULLER, MIKE MARESCA, STEVE BERNARD, LEE LADOUCEUR, DANY GAGNE, MICHAEL PARENT, JOEY LADOUCEUR, MATHIEU BOISVERT, LOUIE JACKSON JR, PRESTON FORBES, MARC THERRIEN, BRIAN MCDONALD, KAYLE ROBIDOUX, KEVIN HAMEL, MICHAEL LABRECHE, TRISTAN DRAPER, MATHIEU LARAMEE
Race for the Cure Sportsman Results (100 tours)
SHANE PECORE, RYAN STABLER, KURTIS CAYER, JOHNATHAN FERGUSON, JASON SHIPCLARK, ZACH ARQUIETT, THOMAS COOK, BRIANNA LADOUCEUR, GABRIEL CYR, JEFFREY LAPALME, ALEX GAGNON, JUSTIN DELORMIER, DENIS FORGUES, ALEX LIZOTTE, JUSTIN LALANCETTE, MOISE PAGE, JASON ROSE BOB RAY, GENEVA SHEFFIELD, ROBERT DELORMIER, JARRET HERBISON, CEDRIC GAUVREAU, KAVEN POLIQUIN, CHRIS FERGUSON, DEVIN WILLIS, RICKY THOMPSON, JUNIOR DELORMIER, ADAM ROZON, COREY WINTERS, CHRISTIAN SMOKE
Weekend Warriors Pro-Stock Results (30 laps)
STEPHANE LEBRUN, ROCH AUBIN, DAVE SEGUIN, CD BEAUCHAMP, MARC LALONDE, PIERRE-OLIVIER BREAULT, DAVE BISSONNETTE, BURTON WARD, ERIC JEAN-LOUIS, KEVIN FETTERLY, MIKE BLAIS
Weekend Warriors Mini-Stock Results (20 laps)
NICHOLAS LAMOUREUX, YANIK POTVIN, JUSTIN JODOIN, MARC DAGENAIS, MATTHEW MOORE, THOMAS MACDONALD, ALEXIS CHARBONNEAU, JAMES CLARKE, TYLER LAMARCHE, SHAWN DUVAL